Description
Overdrive and Torque Converter Lock-Up Kit for Chrysler
The COMPUSHIFT Mini Overdrive and Torque Converter Lock-Up Kit allows you to control the overdrive and when the torque converter clutch engages on Chrysler A500/42RH, A518/46RH 618/47RH transmissions. It is a stand alone system and is easily installed by someone handy on the tools as it includes DIY installation instructions.
The COMPUSHIFT Mini can be programmed using a smart device via Bluetooth.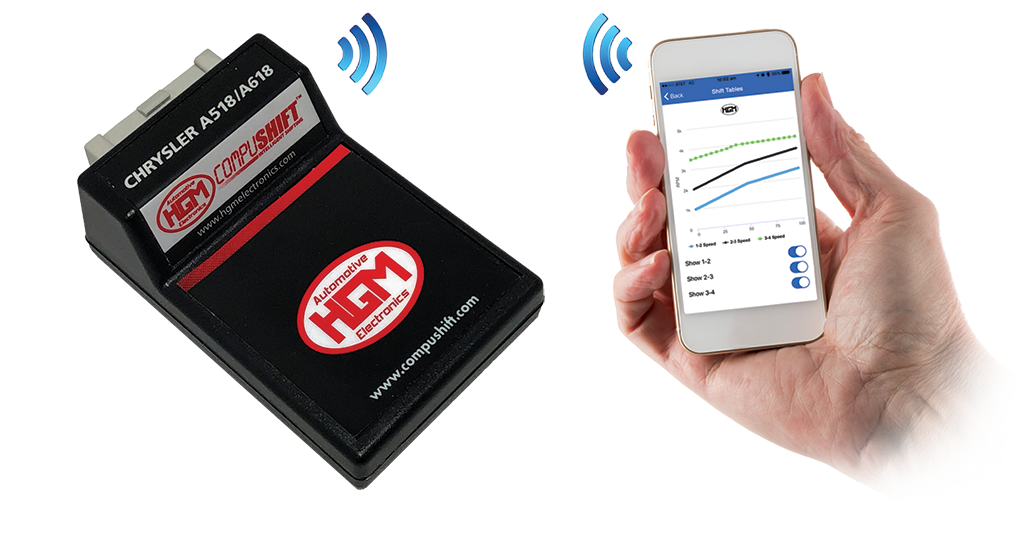 A free downloadable App (available for Android, iPhone or iPad devices) allows you to adjust and tune settings. It includes an easy to read screen that displays current vehicle speed, throttle position, transmission pressure, 4th gear/overdrive activity and torque converter clutch engagement (lockup). This means that you can adjust your Torque Converter Lock-Up settings from the comfort of your seat.
The COMPUSHIFT Mini is different to other cheaper kits that typically use vacuum switches or delay timers. The COMPUSHIFT Mini has a dual system utilising throttle position and vehicle speed to optimize torque converter clutch lock-up control.  It also has the capability to run an electronic speedometer if required.
Customers often report benefits of better fuel economy for highway driving as well as improves response from the throttle.
Included:
COMPUSHIFT Mini Overdrive and Torque Converter Lock-Up Controller
Wiring harness
Speed sensor and fittings
Hydraulic pressure sensor
Hook and loop fasteners, terminals and cable ties.
Installation instructions
Transmissions Supported:
Chrysler A500 / 42RH
Chrysler A518 / 46RH
Chrysler A618 / 47RH
Notes:
Electronic vehicle speed sensor cables have 3 wires and come with flat pins or round pins. The COMPUSHIFT Mini support both these speed sensors.
Engine types: "Electronic injection diesel" and "Petrol with EFI" both require a Throttle Position Sensor (TPS) tap loom (included).
Engine type "Petrol with carburetor" will require you to have a TPS (sold separately)
Engine type "Mechanical inject diesel noTPS" is for mechanical injection diesels that do not have a TPS system. You will need to purchase a TPS separately to operate the COMPUSHIFT Mini
PLEASE NOTE: THIS PRODUCT WILL NEED THROTTLE POSITION SENSOR WHEN USED WITH A CONSTANT PRESSURE VALVE BODY.