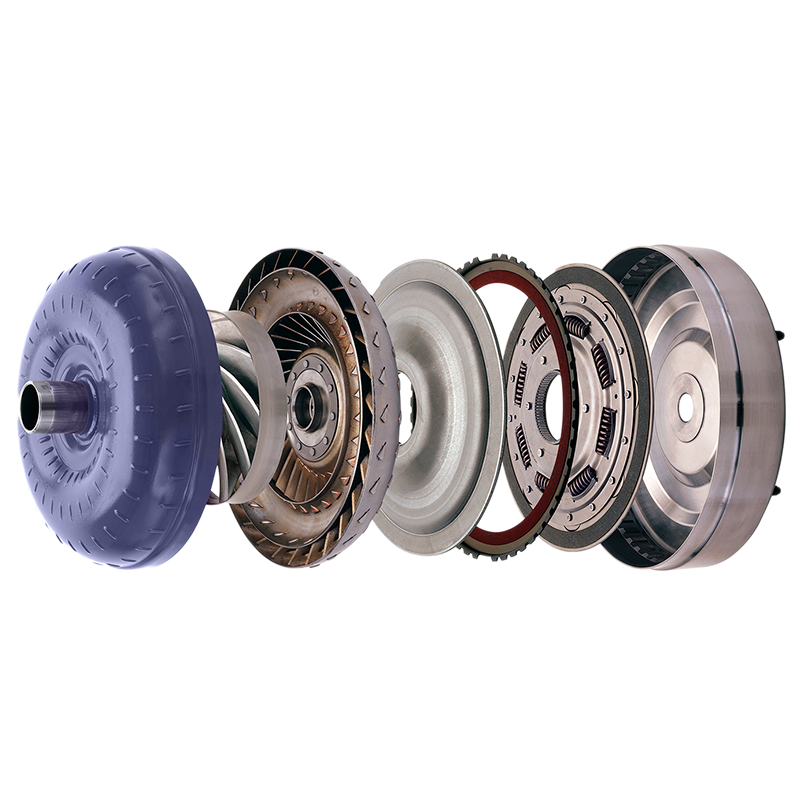 Custom Heavy Duty Billet Torque Converters
Custom Heavy Duty Billet Torque Converters
Over the years, there have been many transmissions that failed when it came to a strong and reliable torque converter. Some were not large enough to suit the engine power, others didn't have a thick enough backing plate for the lockup clutch.
Then we have the conversion scenario.
I want to bolt this auto, to that engine, in a different chassis!
So we have set up our Billet Torque Converter Program to answer all of these scenarios and this has allowed us to develop numerous torque converter designs to suit the multitude of flex-plate and automatic transmission combinations. Some of these torque converters are done on a 'Change Over' basis and have a refundable deposit attached, while others are strictly 'Outright' only. Please review the table below to look at the various options we offer.
Nissan D40 Navara
RE5R05A 5 Speed – YD25 Diesel 4 Cylinder Replacement (Change Over)
Nissan Patrol
RE4R03A 4 Speed – Nissan ZD30 Diesel 4 Cylinder Replacement (Outright)
RE4R03A 4 Speed – Nissan TB45E Petrol 6 Cylinder Replacement (Change Over)
RE4R03A 4 Speed – GM LS1 Petrol V8 (Outright)#
RE4R03A 4 Speed – GM/Chev 6.2L/6.5L Diesel V8 (Outright)#
RE4R03A 4 Speed – Chev V8 Iron Block (Outright)#
RE4R03A 4 Speed – Holden V8 Iron Block (Outright)#
RE4R03A 4 Speed – Nissan TD42 Late GU Black Top (Outright)#
RE4R03A 4 Speed – Nissan TD42 Early GQ Silver Top (Outright)#
Toyota LandCruiser 60/61/62 Series
A440F Hydraulic 4 Speed – Toyota 2H/12HT Replacement (Outright)
A440F Hydraulic 4 Speed – Toyota 3F/3FE Replacement (Outright)
A440F Hydraulic 4 Speed – GM LS1 Petrol V8 (Outright)#
A440F Hydraulic 4 Speed – Holden/Chev V8 Iron Block (Outright)#
Toyota LandCruiser 80/81/82 Series
A440F Hydraulic 4 Speed – Toyota 3FE Replacement (Outright)
A440F Hydraulic 4 Speed – GM LS1 Petrol V8 (Outright)#
A440F Hydraulic 4 Speed – Holden/Chev V8 Iron Block (Outright)#
A442F Electronic 4 Speed – Toyota 1HD-T/1HD-FT Replacement (Outright)
A442F Electronic 4 Speed – GM LS1 Petrol V8 (Outright)#
A442F Electronic 4 Speed – GM/Chev 6.2L/6.5L Diesel V8 (Outright)#
A442F Electronic 4 Speed – Holden/Chev V8 Iron Block (Outright)#
Toyota 100/105 Series
A442F Electronic 4 Speed – Toyota 1HD-FTE Replacement (Outright)
A442F Electronic 4 Speed – GM LS1 Petrol V8 (Outright)#
A442F Electronic 4 Speed – GM/Chev 6.2L/6.5L Diesel V8 (Outright)#
A442F Electronic 4 Speed – Holden/Chev V8 Iron Block (Outright)#
Toyota Hilux
A343F 4 Speed – Toyota D4D 4 Cylinder Diesel (Outright)
Ford Super Duty F-Series
4R100 4 Speed – 7.3L Powerstroke Diesel V8 Replacement (Change Over)
5R110 5 Speed – 7.3L Powerstroke Diesel V8 Replacement (Change Over)
Mitsubishi Pajero/Triton/Challenger
V4A51 4 Speed – All Engines (Change Over)(Converter Code Required)
V5A51 5 Speed – All Engines (Change Over)(Converter Code Required)
# Indicates that Torque Converter MUST be fitted in conjunction with any or all of the following:
With a specific adapter
With a specific drive-plate assembly
With modifications to the factory drive-plate assembly